I was very happy when
What Video Game Character Are You?
told me who I am: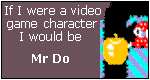 "I am Mr Do. I am sedentary by nature, enjoying passive entertainment, eating when the mood takes me, and playing with my food. I try to avoid conflict, but when I'm angered, I can be a devil - if you force me to fight, I will crush you. With apples."
Mr Do
is my all time favourite arcade game. In case you didn't know,
M.A.M.E
is the place for all your retro-gaming needs.